Specialized Transportation
Thanks to our fleet of various vehicle models, we can handle any specialized transportation request. Backed by over 25 years of industry experience, we have the necessary permits for carrying non-standard, oversized and hazardous goods. Visit our section on Equipment to discover our fleet of vehicles.
Boom trucks
TRANSPORT GILLES LAVIGNE owns several boom trucks with a platform height of 25 to 53 feet. Our cranes can reach heights of 100 feet, equivalent to 9 storeys.
The load-bearing capacity varies according to the platform and can reach 70 000 pounds. As for the cranes, they can lift up to 18 000 pounds based on the required height.
Thanks to our articulated arm-mounted trucks, we can unload goods in hard-to-reach sites. You can rest assured that all necessary precautions are taken to secure the load during the whole process. Cages are used to lift items, and we may sometimes even use forks for more specific needs.
Our trucks are adapted to transport various goods, including construction materials, plumbing equipment, roofing supplies, items on pallets and pipe bundles.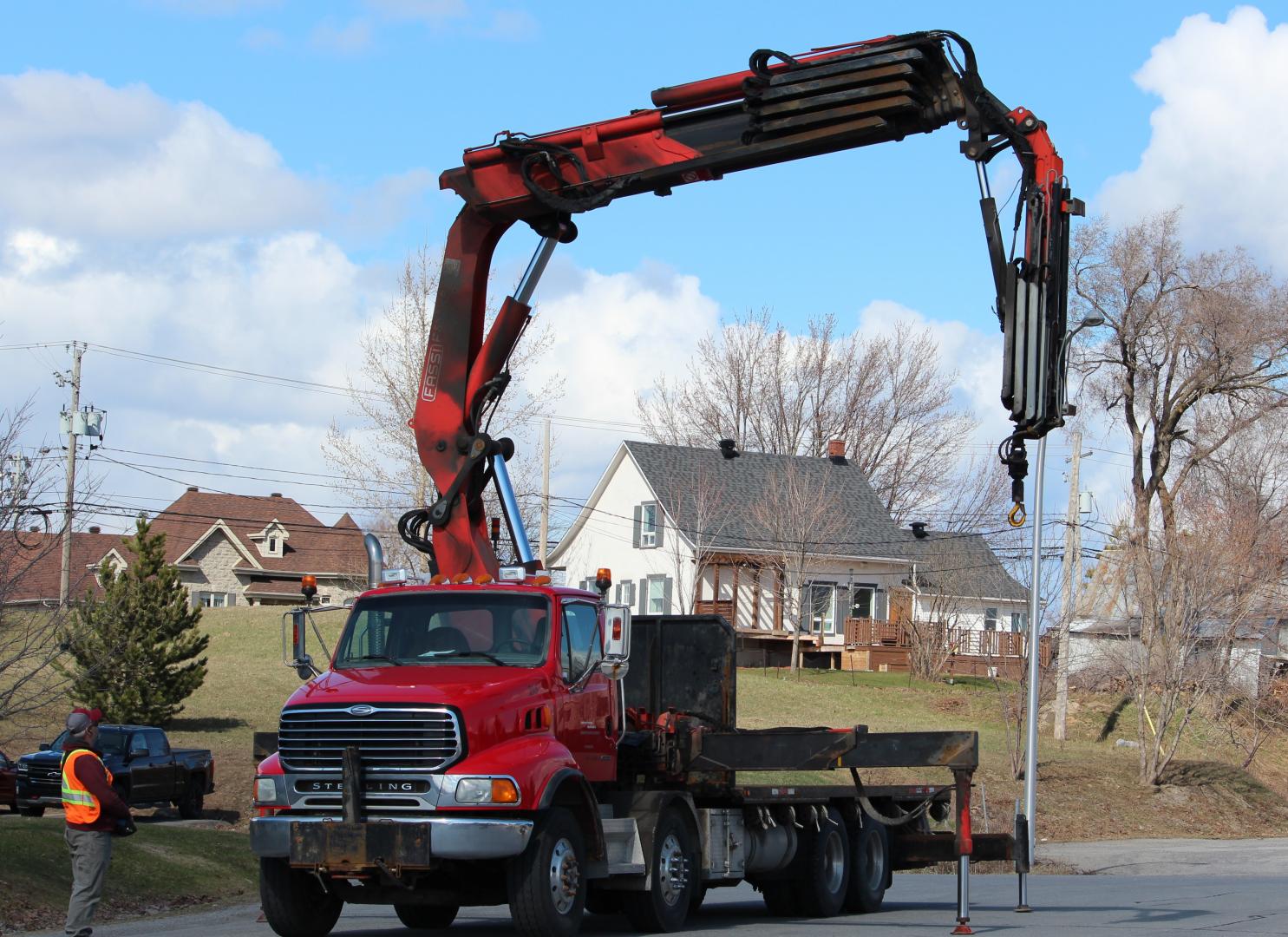 Flatbeds with or without moffet
Our 20-53-foot 2-4 axle flatbed trailers have a load-bearing capacity ranging from 22 000 to 100 000 pounds and can carry items of dimensions 102 inches high by 102 inches wide. To facilitate handling, sideloading is possible, and for added security, we securely attach your goods to die-down points. Weather protection covers can also be fitted upon request. In this case, we suggest you choose our 26-48-foot 2-3 axle curtain side trailers.
In addition to flatbed service, TRANSPORT GILLES LAVIGNE also provides a Moffet service, whereby a small three-wheeled forklift is connected to the back of the flatbed. This is perfect for getting around on rough terrain or carrying out deliveries to clients who do not have unloading equipment. Our Moffets can lift up to 3500 pounds.
Our company also features 48-foot 2-3 axle drop deck or step deck trailers that can carry goods up to 120 inches high.
Flatbeds, drop decks, and curtain side trailers are commonly used for building material, cable reel, processed wood, landscaping material, paving stone and glass  transport.
We have all the necessary transportation permits to carry non-standard goods in Québec and Ontario.
Closed trailers
Our 30 to 53-foot dry-box trailers can support up between 30 000 and 40 000 pounds. Closed trailers are ideal for transporting objects of dimensions 110 inches high by 102 inches wide. Loading is done at the rear, which restricts access to the goods. Moreover, these trailers provide added security since the cargo is sheltered from bad weather and can even be locked. Loading is carried out at the delivery dock, but we also have trailers equipped with tailgates.
Dry Box trailers are often used to transport consumer products, electrical equipment and any goods stacked on pallets.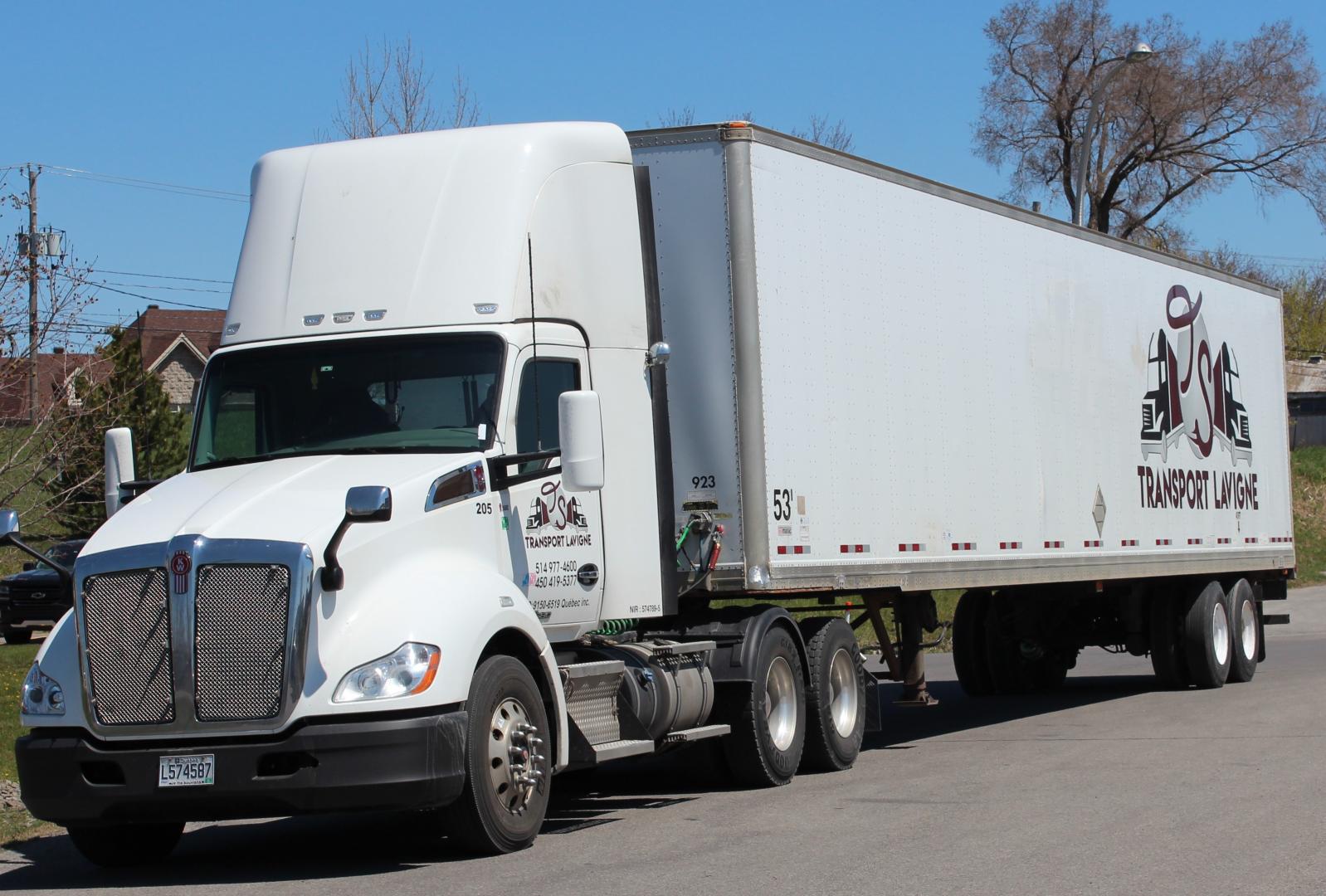 We serve the needs of companies operating in various business sectors, including:
Building and construction
Trust specialized transportation professionals.